Step Up Youth Ministry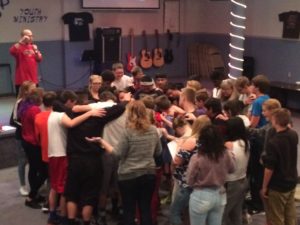 Step-Up Youth Ministry meets Wednesday Nights and is open to all youth ages 12-18 or 6th-12th Grade. Service times run from 7:00pm-8:20pm however a typical Wednesday night has the doors open at 6:20pm and finds them closed at 9:00pm. Opening the doors before and after our youth service not only provides the teens with the opportunity to hang out, but this also gives them a chance to meet new people and make new friends. During open door times, teens can visit the Game Room, The Snack Shack, play basketball, or just hang out in the gym.

Our Wednesday Night Service times are filled with fun games, uplifting worship, prayer, sometimes food and most importantly The Word of God. Our intention as a Youth Ministry is to not only see teens impacted by God but also empowered to live The Christian Life with boldness. We believe in this generation and want to see them Step-Up and Step-In…..to what God has for them and their lives.
For more information, contact Pastor David Rivera.